My Blog
Posts for: April, 2014
By Ronald L. Schoepflin, D.D.S.
April 17, 2014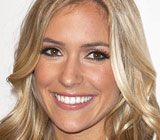 While she was pregnant with her son Camden Jack Cutler, 25-year-old Kristin Cavallari noticed an odd occurrence in her bathroom sink: "Every time I floss, my sink looks like I murdered somebody!" the actress and reality-TV personality exclaimed. Should we be concerned that something wicked is going on with the star of Laguna Beach and The Hills?
Before you call in the authorities, ask a periodontist: He or she will tell you that there's actually no mystery here. What Cavallari noticed is, in fact, a fairly common symptom of "pregnancy gingivitis," a condition that affects many expectant moms in the second to eighth month of pregnancy. But why does it occur at this time?
First — just the facts: You may already know that gingivitis is the medical name for an early stage of gum disease. Its symptoms may include bad breath, bleeding gums, and soreness, redness, or tenderness of the gum tissue. Fundamentally, gum disease is caused by the buildup of harmful bacteria, or plaque, on the teeth at the gum line — but it's important to remember that, while hundreds of types of bacteria live in the mouth, only a few are harmful. A change in the environment inside the mouth — like inadequate oral hygiene, to use one example — can cause the harmful types to flourish.
But in this case, the culprit isn't necessarily poor hygiene — instead, blame it on the natural hormonal changes that take place in expectant moms. As levels of some female hormones (estrogen and/or progesterone) rise during pregnancy, changes occur in the blood vessels in the gums, which cause them to be more susceptible to the effects of bacterial toxins. The bacteria produce toxic chemicals, which in turn bring on the symptoms of gingivitis — including painful and inflamed gums that may bleed heavily when flossed.
Is pregnancy gingivits a cause for concern? Perhaps — but the condition is generally quite treatable. If you've noticed symptoms like Kristen's, the first thing you should do it consult our office. We can advise you on a variety of treatments designed to relieve the inflammation in your gums and prevent the harmful bacteria from proliferating. Of course, your oral health (and your overall health) are prime concerns during pregnancy — so don't hesitate to seek medical help if it's needed!
How did things work out with Kristen? She maintained an effective oral hygiene routine, delivered a healthy baby — and recently appeared on the cover of Dear Doctor magazine, as the winner of the "Best Celebrity Smile" contest for 2012. And looking at her smile, it's no mystery why she won.
If you would like more information about pregnancy gingivitis, please contact us or schedule an appointment for a consultation. You can also learn more by reading the Dear Doctor magazine articles "Expectant Mothers" and "Kristen Cavallari."
By Ronald L. Schoepflin, D.D.S.
April 02, 2014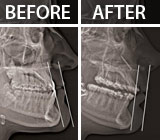 Orthodontics is a specialty of dentistry dedicated to the diagnosis and treatment of misaligned teeth, or malocclusions. The goal is to help patients achieve better long-term oral health by improving teeth alignment. Sometimes, though, the misalignment is much more involved than the position of the teeth — it may be that the jaw structure is also misaligned. In that case, the skills of an oral surgeon may be in order.
The jaws are similar in shape to the arch of a horseshoe, hence the referral to either upper or lower sets of teeth as dental arches. In a normal jaw structure, the lower arch fits just inside the upper arch when you bite down and the teeth are able to function correctly. In some individuals, though, the lower arch closes in front of the upper arch, commonly known as an underbite. If the underbite is only slight, the malocclusion can be corrected by repositioning the teeth only, as with braces. If, though, the underbite is more severe it would require a surgical procedure to realign the jaws, also known as orthognathic surgery.
Orthognathic surgery can help relieve a number of functional complications caused by jaw-related malocclusions: difficulty chewing and swallowing; chronic jaw or head pain; or sleep apnea. It can also enhance the patient's facial appearance by correcting an imbalance between the two lateral sides (asymmetry), or by minimizing a receding chin or protruding jaw.
Its primary benefit, though, is its effect on the patient's bite and tooth alignment. For this purpose, the orthodontist and oral surgeon work together to achieve the best result possible. In some cases, the orthodontist may perform his or her work first by moving teeth into the proper position. This sets the stage for the oral surgeon to perform orthognathic surgery to complete the correction of the misalignment.
Each individual patient's case is different — the best plan of action must begin with a full examination by an orthodontist, and a consultation with an oral surgeon if necessary. It may require time and the expertise of two specialties, but the final result will be better health and a better look.
If you would like more information on various orthodontic procedures, please contact us or schedule an appointment for a consultation. You can also learn more about this topic by reading the Dear Doctor magazine article "Jaw Surgery & Orthodontics."