My Blog
Posts for: November, 2014
By Ronald L. Schoepflin, D.D.S.
November 19, 2014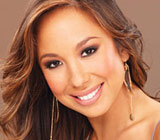 Growing up with a dentist stepdad, Cheryl Burke of Dancing with the Stars heard a lot over the years about the importance of good oral hygiene — in particular, the benefits of using dental floss.
"My dad would say, 'make sure you floss,' but I never really listened to him. I was very, very stubborn," Cheryl told Dear Doctor magazine recently in an exclusive interview. Cheryl admits this stubbornness took its toll, in the form of tooth decay. "I definitely had my share of cavities," Cheryl recalled.
Cavities can form when food particles, particularly sugar and carbohydrates, are not effectively cleaned from the spaces between teeth. These particles are then broken down by bacteria naturally present in the mouth, resulting in the production of acids that attack the tooth enamel.
When she reached her twenties, Cheryl decided she really needed to step up her oral hygiene and cultivate an asset so important to a professional dancer: a beautiful smile. And once she did, cavities became a distant memory.
"I think when you do floss frequently, it helps to reduce the chances of getting cavities," Cheryl said. "It took me a while to figure it out." Now Cheryl flosses after every meal. "I carry floss with me wherever I go. I have no shame busting out my floss in the middle of a restaurant!" She declared.
Dental decay is actually a worldwide epidemic, especially among kids. Untreated, it can lead to pain, tooth loss, and, because it is an infectious disease, it may even have more serious systemic (whole body) health consequences. The good thing is that it is entirely preventable through good oral hygiene at home and regular professional cleanings here at the office.
If it has been a while since you or your children have seen us for a cleaning and check-up, or you just want to learn more about preventing tooth decay, please contact us to schedule an appointment for a consultation. If you would like to read Dear Doctor's entire interview with Cheryl Burke, please see "Cheryl Burke." Dear Doctor also has more on "Tooth Decay: The World's Oldest & Most Widespread Disease."
By Ronald L. Schoepflin, D.D.S.
November 03, 2014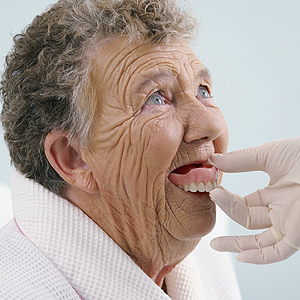 When you first received your removable dentures the fit was firm and comfortable. Lately, though, they've become loose, making it difficult to eat or speak without slippage.
The problem may not be with your denture, but with bone loss. Human bone goes through a natural cycle of dissolving (known as resorption) and new growth to take the lost bone's place. The jawbone receives further stimulation to grow from the forces generated by natural teeth when we bite or chew.
When natural teeth are missing, however, the jawbone lacks this stimulation, which over time results in bone loss and gum tissue shrinkage. Traditional dentures can't transmit this stimulating force to the jawbone either, so the bone and gum structure under a denture will also shrink. This results in a looser fit for the denture.
The simplest option to correct a loose-fitting denture (especially if it's the first occurrence) is to reline the dentures with additional material to re-form the fit to the new conditions in the mouth. A permanent relining will require sending your dentures to a dental laboratory to apply the new material based on a mold of your current anatomy beneath the denture.
If, however, your dentures have already undergone a few relinings, or after examining your gums we determine a relining won't provide the fit and stability needed, then it may be time for a new denture. Although this is more costly than a relining, a new appliance could provide a more accurate fit to the current contours in your mouth.
The latter option may also give you a chance to benefit from advancements in denture technology or materials since you received your current denture. One such advancement is a removable denture that's supported by implants. It's possible to achieve this new supporting foundation for the denture with as few as two strategically-placed implants in the lower jaw.
If you've begun to notice denture looseness, be sure to make an appointment for an examination. From there, we can advise you on what will work best in your particular case.
If you would like more information on your options regarding removable dentures, please contact us or schedule an appointment for a consultation. You can also learn more about this topic by reading the Dear Doctor magazine article "Loose Dentures."