My Blog
Posts for: March, 2015
By Ronald L. Schoepflin, D.D.S.
March 24, 2015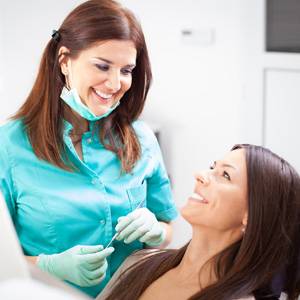 For years preparing teeth for fillings or other restorations has required the use of a drill. Although quite effective in removing decayed structure and preparing the tooth for bonding, it usually requires a local anesthetic. That and the noise it generates can be unsettling for many patients.
In recent years, a different type of technique known as "air abrasion" has increased in popularity among dentists. Known also as "particle abrasion," the technique uses a stream of fine particles to remove decayed tooth structure and is less invasive than the traditional drill. Although the technology has been around since the mid-20th Century, recent developments in suction pumps that remove much of the dust created have made it more practical. It also works well with new natural-looking bonding materials used for tooth structure replacement.
The fine particles — usually an abrasive substance like aluminum oxide — are rapidly discharged through a hand-held instrument using pressurized air aimed at affected tooth areas. Decayed teeth structure is softer than healthier tissue, which allows air abrasion to precisely remove decay while not damaging the other.
Besides removing decay or abrading the tooth for bonding, air abrasion can also be used to minimize stained areas on surface enamel and to clean blood, saliva or temporary cements from tooth surfaces during dental procedures. It's also useful for smoothing out small defects in enamel or aiding in sealant applications.
It does, however, have a few limitations. It's not as efficient as the traditional drill with larger cavities or for re-treating sites with metal (amalgam) fillings. Because of the fine texture of the abrasive particles, affected teeth need to be isolated within the mouth using a rubber dam or a silicone sheet. High-volume suction must be continually applied to capture the fine particles before the patient swallows them or it fills the procedure room with a fine cloud of material.
Still, while air abrasion technology is relatively new, it has clear advantages over the traditional drill in many procedures. As advances in the technology continue, air abrasion promises to offer a more comfortable and less invasive experience in dental treatment.
If you would like more information on air or particle abrasion, please contact us or schedule an appointment for a consultation.
By Ronald L. Schoepflin, D.D.S.
March 09, 2015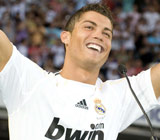 He's the world's highest-paid soccer player: a forward on the Spanish club Real Madrid, and captain of the Portuguese national team. His super-toned body is featured in a series of advertisements, and he's regularly seen with a supermodel on his arm. So would it surprise you to know that it took a bit of dental work to help Cristiano Ronaldo get a world-class smile?
You might never guess it to look at him now — but when he was 18 years old, and just starting his professional career with Manchester United in England, Ronaldo wore ceramic braces to correct a set of teeth that were quite a bit… off-sides. (As pictures from that time show, his teeth were out of alignment and had irregular spacing.) Yet in a relatively short time, his smile was completely transformed.
Ceramic braces are the treatment of choice for many sports stars and celebrities — and plenty of "regular" folks too. They work just like traditional all-metal braces, exerting a gentle force that slowly moves the teeth into better positions. But they have one major difference: They're a good deal harder to notice.
That's because instead of having brackets made of metal, this style of braces uses a high-tech ceramic material to attach the archwire to the teeth. The brackets blend right in with the natural shade of the tooth, so all you can see from a distance is the thin metal wire. That makes them a great orthodontic option for image-conscious celebs (like Tom Cruise and Faith Hill, who both wore them) — as well as anyone who may be concerned that traditional metal braces don't fit in with their "look".
In addition to ceramic braces, there are other, less-visible orthodontic treatments that can work just as well in many situations. One is lingual braces, which are similar to traditional braces — except they are applied on the tongue-side of the teeth, making them truly invisible. Another is clear aligners, a series of transparent plastic trays that are worn 22 hours a day and gradually move the teeth into more pleasing positions. What's the best way to know which system is right for you? Come in and talk to us about your options!
Besides braces, did Cristiano Ronaldo have other cosmetic dental work (like teeth whitening) done? It's possible, but he's not saying exactly. Yet, as he told a Portuguese magazine, "I feel good about myself and that's the most important thing."
If you would like more information about ceramic braces or other orthodontic treatments, please contact us or schedule an appointment for a consultation. You can learn more in the Dear Doctor articles "The Magic of Orthodontics" and "Orthodontics For The Older Adult."