My Blog
Posts for: October, 2019
By Ronald L. Schoepflin, D.D.S.
October 15, 2019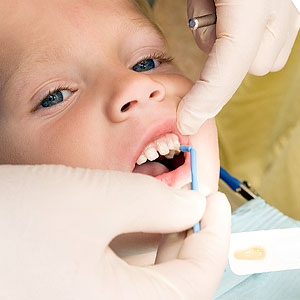 You're doing all the right things helping your child avoid tooth decay: daily brushing and flossing, regular dental visits and a low-sugar diet. But although occurrences are low, they're still getting cavities.
Some children still struggle with tooth decay even with proper dental care. If this is happening to your child, your dentist may be able to give them an extra preventive boost through topical fluoride.
Fluoride has long been recognized as a proven cavity fighter. Often added in small amounts to toothpastes and drinking water, fluoride strengthens tooth enamel against acid attacks that create cavities. With topical fluoride, a dentist applies a varnish, foam or gel containing a more concentrated amount of the chemical directly to the teeth.
The effectiveness of this method in reducing tooth decay is well-founded: A number of scientific studies involving thousands of children and adolescents found an average 28% reduction in occurrences of decay among those who received the treatment compared to those who didn't.
Still, many parents have concerns about the higher fluoride concentrations in topical applications. But even at this greater amount, fluoride doesn't appear to pose any long-term health risks. The most adverse effects—vomiting, headaches or stomach pain—usually occur if a child accidentally ingests too much of the solution during treatment.
Dentists, however, go to great lengths to prevent this by using guards to isolate the solution during an application. And in the case of a foam or gel application, parents can further lower the risk of these unpleasant side effects by not allowing their child to eat or drink for at least thirty minutes after the procedure.
The evidence seems to indicate that the benefits of regular topical fluoride applications for children at high risk outweigh the possible side effects. By adding this measure to your prevention strategy, you can further protect your child from this danger to their current and future dental health.
If you would like more information on tooth decay prevention for your child, please contact us or schedule an appointment for a consultation. You can also learn more about this topic by reading the Dear Doctor magazine article "Fluoride Gels Reduce Decay."
By Ronald L. Schoepflin, D.D.S.
October 05, 2019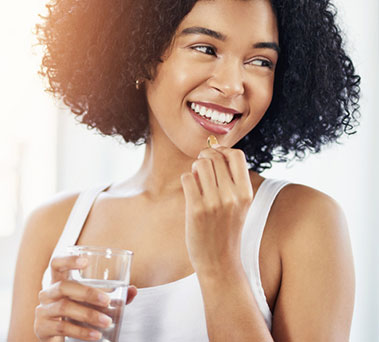 Vitamins play a key role in your body's health, including your teeth and gums. A vitamin-deficient diet is an invitation to all sorts of disease.
But what are vitamins? Although they differ individually in what effect they have on the body, they're all organic compounds found in foods, especially fruits and vegetables. Each in a different way helps with bodily processes.
Vitamin C, for example, helps the body repair tissue. Without it, tissue breaks down easier, as British sailors discovered centuries ago on long sea voyages. Deprived of vitamin C in their diets they soon encountered health issues like bleeding gums. Eating limes — chock full of vitamin C—helped to clear up such problems (and also why they were called "limeys").
Scientists have discovered thirteen vitamins, four of which—A, D, E and K—are soluble (dissolvable) in fat; the body stores these in the liver and fat tissue where they issue out into the body slowly. The rest—C and eight types of B vitamin—are soluble in water. Unlike the fat-soluble vitamins, these are used quickly and any remaining are excreted from the body.
When it comes to teeth, gums and the mouth, a rich assortment of vitamins helps maintain good oral health. For the teeth especially, vitamin D plays a critical role—it helps the body absorb the mineral calcium necessary for strong bones and teeth. You'll find this vitamin plentiful in dairy products, but also fatty fish like salmon and tuna.
While vitamins occur naturally in foods, they can be manufactured in the form of dietary supplements. Unfortunately, the world of dietary supplements is a murky one, ungoverned by the restrictions and clinical trials that drugs undergo before they go to market. And, it's big business: vitamin supplements are promoted as "insurance" for good health.
But while some people have conditions that may require a vitamin supplement, research has shown that most of us can effectively get our vitamins through a diet rich in fresh fruits and vegetables. So, do your teeth and gums (as well as the rest of your body) a favor—eat your fruits and veggies. Along with daily brushing and flossing, getting enough vitamins can go a long way toward keeping your mouth healthy and disease-free.
If you would like more information on nutrition and dental health, please contact us or schedule an appointment for a consultation. You can also learn more about this topic by reading the Dear Doctor magazine article "Vitamins & Dietary Supplements: What Every Consumer Should Know."